Epimedium pinnatum Fisch. subsp. colchicum (Boiss.) N. Busch (Caucasus) – An exceptional escape from cultivation. An apparently well-established population was discovered by a railway track in Durbuy in 2012 (see also: http://waarnemingen.be/waarneming/view/68976941).
There are rather few western European records for Epimedium pinnatum although it now is more popular in cultivation than E. alpinum (Stace 2010). It is known since quite some time as a relic in the British Isles (Clement & Foster 1994). Jonsell (2001) reports about a Danish record and Dickoré & al. (2009) provide a record from Germany.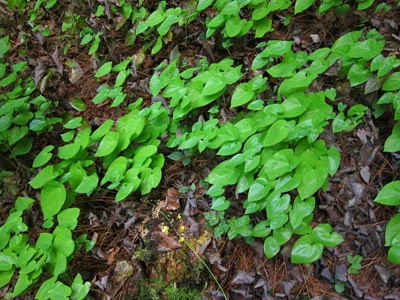 ---

Selected references:
Clement E.J. & Foster M.C. (1994) Alien plants of the British Isles. BSBI, London: XVIII + 590 p.
Dickoré W.B., Lewejohann K. & Urner R. (2009) Neufunde, Bestätigungen und Verluste in der Flora
von Göttingen (Süd-Niedersachsen). Florist. Rundbriefe 42: 5-59.
Jonsell L. (2001) Berberidaceae. In: Jonsell B. (ed.), Flora Nordica, vol. 2. The Bergius Foundation, Stockholm: 336-339.
Stace C. (2010) New Flora of the British Isles, 3th ed.: XXXII + 1232 p. Cambridge University Press.