Erucastrum gallicum (Willd.) O.E. Schulz (syn.: E. pollichii Schimp. et Spenner) (SW- and C-Eur.) – A rather frequent but ephemeral alien. First recorded in the 1850's around Gent (several locations). Subsequently seen in numerous and widely scattered places, mostly on wasteland, along road verges and railway tracks, on dumps or as a weed of arable land. Formerly exceptionally seen as a wool alien in the Vesdre valley. Recent records are nearly always obviously related with grain importation.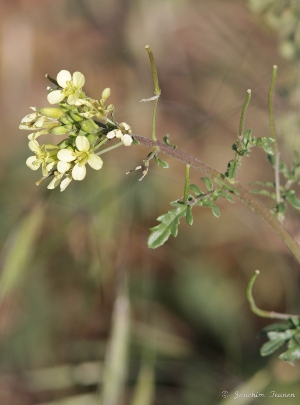 ---

Selected literature:
Luken J.O., Thieret J.W. & Kartesz J.T. (1993) Erucastrum gallicum (Brassicaceae): invasion and spread in North America. Sida 15: 569-582.
Milberg P. (1991) Kålsenap, Erucastrum gallicum, en försvinnande växt vid Tåkern. Svensk Botanisk Tidskrift 85: 105-109.
Štěpánek J. (1983) Erucastrum gallicum a E. nasturtiifolium v českých zemích. Zpr. Čs. Bot. Společ., Praha 18: 27-42.
Warwick S.I. & Wall D.A. (1998) The biology of Canadian weeds. 108. Erucastrum gallicum (Willd.) O.E. Schulz. Canad. J. Pl. Sci. 78(1): 155-165.