Tilia tomentosa Moench (syn.: T. argentea DC.) (SE-Eur., SW-As.) – An exceptional escape from cultivation. Some young trees were recorded on a disused railway yard in Jemappes (Mons) in 2006, along with Populus trichocarpa (confirmed in 2010). Occasionally seen elsewhere, for instance on a talus slope in Moen in 2013. Possibly overlooked elsewhere. Identical records are available from other European cities, for instance from Stuttgart and Zurich (Landolt 2001, Schmid 2005).
Tilia tomentosa is treated in a broad sense here, as to include T. xpetiolaris Hook. (syn.: T. tomentosa 'Pendula', T. 'Petiolaris'), a putative hybrid of T. mandshurica Maxim. and T. tomentosa. The plants from Jemappes are not clearly ascribable to either Tilia tomentosa or T. xpetiolaris.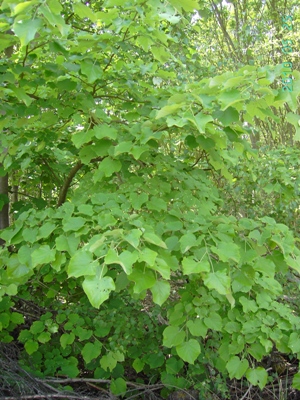 ---
Selected literature:
Landolt E. (2001) Flora der Stadt Zürich. Birkhäuser Verlag, Basel: 1421 p.
Schmid M. (2005) Untersuchung zur neophytischen Gehölzflora im Stuttgarter Stadtgebiet. Jh. Ges. Naturkde. Württemberg 161: 178-257.