4. Persicaria pensylvanica (L.) Gómez de la Mata (syn.: Polygonum pensylvanicum L.) (N-Am.) – A regular but ephemeral alien. Formerly exceptionally recorded as a wool alien in the Vesdre valley in 1902 (Lambinon 1995). From 1992 onwards rather frequently seen as a grain (especially soybean) alien in port areas in Antwerpen, Gent and Izegem (Verloove & Vandenberghe 1994). Usually found near unloading quays, under grain conveyors or in roadverges.
All Belgian collections seen belong to var. laevigatum (Fernald) W.C. Ferguson (with glabrous leaves), the commonest variety in North America. However, recent authors judge that Persicaria pensylvanica is best treated as a polymorphic species without infraspecific taxa (Hinds & Freeman 2005).
Persicaria pensylvanica much resembles native P. lapathifolia and might pass unrecorded. In some European countries it spreads in riverine habitats and possibly naturalises (see also van der Meijden 2005).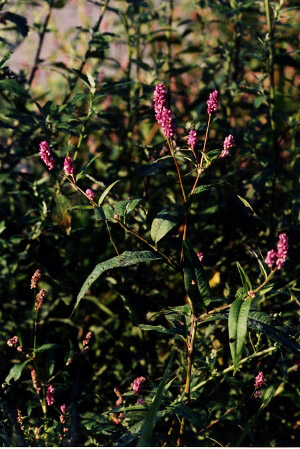 ---

Selected literature:
Hinds H.R. & Freeman C.C. (2005) Persicaria. In: Flora of North America Editorial Committee (eds.), Flora of North America, vol. 5. Oxford University Press, New York-Oxford: 574-594.
Kubát K. & Jehlík V. (2003) Persicaria pensylvanica in der Tschechischen Republik. Preslia 75: 183-188.
Lambinon J. (1995) Notes taxonomiques, nomenclaturales et chorologiques relatives à la quatrième édition de la « Nouvelle Flore » de la Belgique et des régions voisines. 3. Données nouvelles sur des plantes adventices ou subspontanées en Belgique. Dumortiera 60: 1-36.
Van der Meijden R. (2005) Heukels' Flora van Nederland (23e druk). Wolters-Noordhoff, Groningen: 685 p.
Verloove F. & Vandenberghe C. (1994) Nieuwe en interessante graan- en veevoederadventieven voor de Belgische en Noordfranse flora, hoofdzakelijk in 1993. Dumortiera 58-59: 44-59.